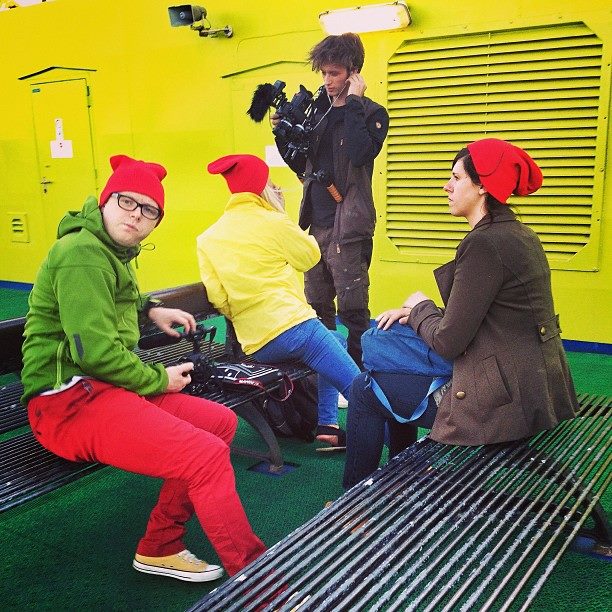 The Trans-Europe-Tour on Nordic-Skates. More informations: www.boredofborders.com and on facebook.
From Karlis Bardelis (Lativa):
September 5, 2013
Ok, that's it. We are officially out on the road and will be for the next two months at least. The camper is packed almost to it's limits and the crew is excited over any limits imaginable. So IT'S ON! Follow us, think about us, write to us and try to find us on the road, cause that's where we'll be.
September 7, 2013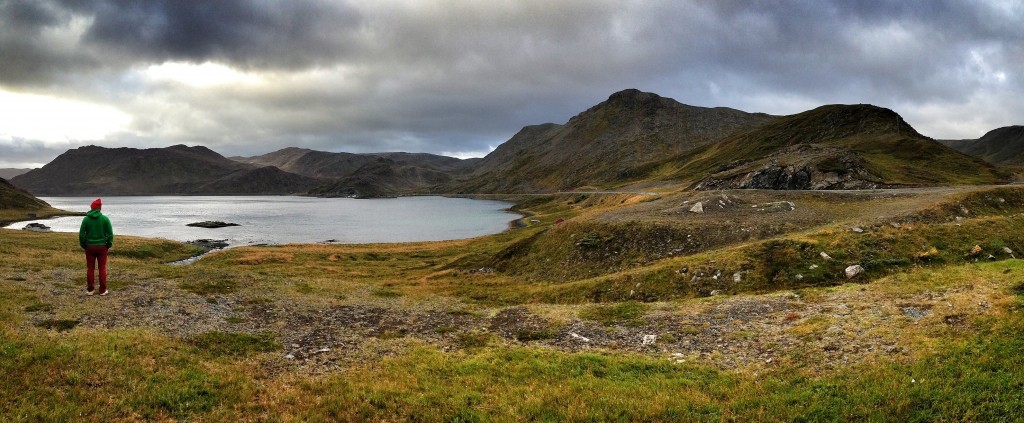 So the main part of our journey has started. In spite of crazy Northern wind Karlis has conquered the tricky slopes of North Cape making the first steps towards Gibraltar and the Guinness World Record. No one has said that it will be easy but Karlis is totally excited and eager to get back on his skates and continue slicing the road line by line, breath by breath, because it's not about achievements or records ­ it's all about the road and being part of it.

September 9, 2013
Day 3. It was a magical ride through the Northern Norway. The nature here is just breathtaking and the road keeps offering us unexpected surprises. For instance, today Karlis met a fellow traveler ­ a guy who is hiking from Lofoten islands to North Cape. During the day Karlis skated 89,71 km, which took him approx. 5 hours (not counting pitstops) and almost 4000 calories. But those are just numbers ­ the only thing that really matters is the road and freedom.
September 10, 2013
Day 4. Today our route took us through mountains. The road was very narrow, curved and steep. A small mountain river was following us all the way until it grew into a fully watered river and left our side. For the first time Karlis skated 100km which took him 5h48m and the distance was perfect, because it took us to a place, where we saw Aurora for the first time. It was almost like Northern gods were giving us their blessing.
September 11, 2013
Day 5. Today we crossed the border between Norway and Finland and by that the first of nine countries is done. Norway was amazing and as a farewell blessed us with a double rainbow. Now we are in Finland and we'll se what this country will offer. Today Karlis skated 100km and burned 3799 calories.
September 12, 2013
Day 6. Today we crossed yet another border and country and left Finland. Now we are in Sweden and so far Karlis is not satisfied with the road quality here. Asphalt is very uneven and bumpy making it hard to skate. But in spite of that he has managed to get another 101 km closer to his goal with the average speed of 18,6 km/h. in the picture you can see the place where we spent the night and saw Aurora again.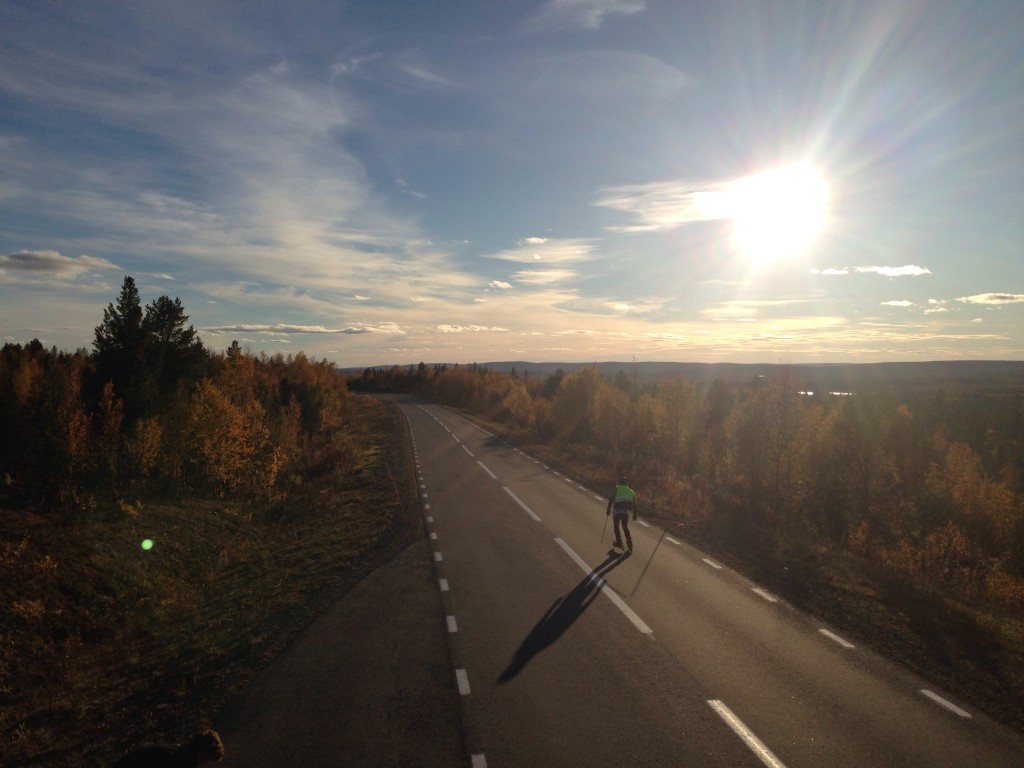 September 13, 2013
Day 7. This was a hard day for Karlis, because almost 20 km of his route were being repaired and therefore had no asphalt. There were times when he could not even skate on inflatable wheels so he had to walk in his roller skates. Also because of these road conditions Karlis fell and broke one of his carbon poles. Good thing that we had a spare one. Because of all of this today's distance was only 80 km and average speed ­ 14,2 km/h.
September 14, 2013
Day 8. Today was quite monotone both for us and Karlis. The scenery and the road remained the same all day. The only thing worth mentioning is a new squeeky sound from our motorhome. We are not sure yet what is the reason for this and if it's going to be a problem. So send good thoughts towards us =) Because of a planed Skype call today Karlis skated only 90km and the max speed today was 44 km/h.
September 15, 2013
Day 9. Today we encountered the first technical problems with our motorhome. One of the batteries died and the camper wouldn't start. After two hours of playing mechanics and with the help of good people of Porjus we finally got the engine running again, but it was too late for Karlis to continue skating. So only 53 km this time.
September 16, 2013
Day 10. Today after 50km we once again crossed the Polar circle and after another 50km we reached a Swedish ghost town which we can't find on any map and I have already forgotten it's name. Maybe it's not even there. It was so creepy there that we drove outside the city limits and parked our camper near the road. By the way camper is running again. It's still making strange noises, but at least we are moving.
September 17, 2013
Day 11. Today Karlis was struggling with asphalt conditions ­ it was quite uneven and Karlis teeth were in danger of falling out, so we mounted the inflatable wheels. Unfortunately these wheels significantly reduced traveling speed, so after some time we changed them back again. Karlis said that speed is more important than his teeth. Even so he did his daily 100km and managed to maintain an average speed of 17,4 km/h. In the picture you can see some forest goods we found along our way.
To be continued in part 2