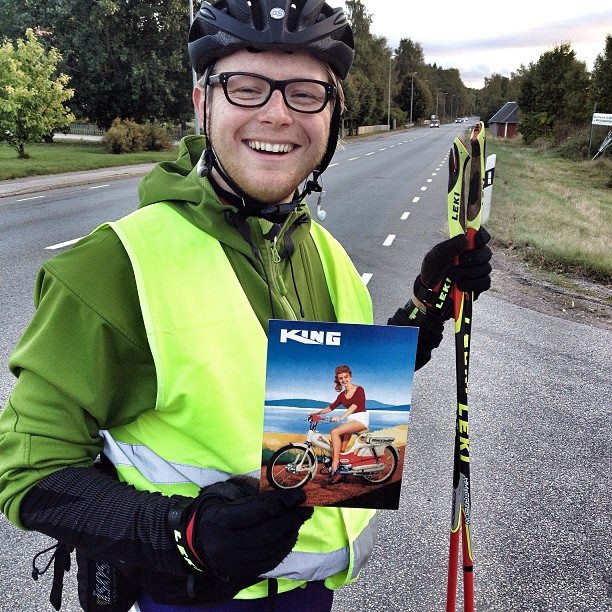 The road so far – crossing Europe on Nordic-Skates – part 1
Septembers 18, 2013
Day 12. Today was a good day: the first 1000km, new speed record ­69.8km/h downhill and also a distance record ­ 120km. Tomorrow does not look so promising due to the road constructions ahead of us, but so long we are happy about today and enjoying the moment near a huge lake.
September 19, 2013
Day 13. Ok, we are not superstitious, but today was the 13th day of Karlis journey and at the 13th kilometer of this day's stretch our camper lost it's generator belt. Also today Karlis had to skate on a road covered with gravel and by skate we mean walk. Unfortunately the generator belt was also responsible for driving the water pump, so we lost not only power but also cooling. In a slow pace we reached nearby town Storuman and tomorrow the guys form local auto service will try to fix our home. Due to all this today Karlis made only 28km further with the average speed of 10km/h. Nevertheless nothing of this has broken our spirits and we are eager to be on the road again.
September 20, 2013
Day 14. Today camper repair delayed our start, so now Karlis has to skate the last 20km in pitch black darkness. He's wearing reflecting vest, reflector straps around his legs and arms and a light beacon is flashing on his helmet. From far away he looks a bit like a firefly. After this stretch Karlis confessed that he was a little scared and would prefer not to do this kind of "dirty" skating again, but it was necessary to complete the daily 100km.
September 21, 2013
Day 15. Today we completed the first 1/4 of our journey both in terms of time and distance. It sounds a lot but we feel that our journey has just started ­ time flies when you're having fun and we like to think that if you're not having fun, you are doing it wrong. Today we saw the sun again for the first time in three days and it really energized us both physically and emotionally. Karlis was so full of sun energy that he made a new personal daily distance record of 125km.
September 22, 2013
Day 16. This was a pretty usual day till the moment we realized that we are out of gas on a Sunday morning and during the night temperature drops below 0 degrees Celsius. So after this days 104km we are sitting in our camper without heating and trying to figure out a system for heating each other =)
September 23, 2013
Day 17. We have passed a sign which says "The Middle of Sweden". This was a quite good day for Karlis ­ he made almost 116km today managing to maintain the average speed of 21.6km/h. It is the best average speed so far. Karlis has developed his own route routine. For example, he has figured out how to let the big trunks pass by in the most convenient way for them. They honk in response in a greeting. For the crew the day was quite boring meaning that nothing broke and there was no problems to solve. The only interesting thing form today is the fact that in Sweden you can't just refill any gas tank, you have to buy a Sweden gas tank and then exchange it when it's empty. The closest place where we can refill our tanks along our route is 5 days from here, so we are struggling to decide wether to buy a Swedish gas tank or take it like true Latvians and freeze till we can refill our tanks.
September 24, 2013
Day 18. This was a good day for Karlis. He made 111km and was very happy about one of the downhill slopes during the second part of the day. It was 4km of pure joy and Karlis rated it with 9 out of 10 skater stars ­ at the top of this slope a gorgeous view presented itself and the way down was so fast and cold that Karlis thought that his eyes will freeze shut. As for the supporting crew ­ today Kaspars announced that by the end of this trip he will learn the Esperanto langue. Well, we'll see about that.

September 25, 2013
Day 19. This morning was the coldest yet. When we woke up the temperature in our camper had dropped to +3 degrees Celsius and the water tanks we left outside the camper had frozen solid. However, this state of total coldness ended when the sun got higher in the sky. In the midday Karlis encountered some technical difficulties with his skates ­ the brake system got loose while rolling downhill and he couldn't stop before a railroad crossing. It resulted in Karlis lying on his back on the railroad tracks in the pose of a star. He was OK though and we fixed the breaks, so he could continue in no time. During the last 30km Karlis was wearing a skiing mask to protect his face against frost bites. Now he looks a little like some kind of a ninja or a bank robber. 120,1km today which means 120,1km closer to the warm waters of Gibraltar.
September 26, 2013
Day 20. Another cold morning in our camper though this morning was a bit warmer than the last ­ it was +4 degrees Celsius inside. Today Karlis encountered the first problems with his GPS watch. Due to a human error the watch didn't register 5km of the route so we had to return and Karlis skated the same stretch again. In the village of Vansbro Karlis met a guy who was trimming tree branches and turned out to be Gunde Svan ­ a cross­ country skier who during his career has won a total of four gold, one silver and one bronze medal at the Winter Olympics. You never know whom you will meet along the way. The mishap with GPS watch and the meeting both made us a bit late so today Karlis had to skate in darkness again. As they say ­ you have to do what you have to do. Karlis described tonights ride as going through a metro tunnel and trying to evade the train. After today we are another 110km closer to our goal and hopefully a warmer climate.
September 27, 2013
Day 21. We hope this was the last cold morning in our home because today we finally got to one of the few places in the whole Sweden where we could exchange our gas tanks, so this evening our gas heater will burn again and it will be cosy inside the camper. Also today Karlis skated into the third thousand of his journey. And again it felt like this waypoint meant more to the supporting crew than it did to Karlis. As he explained when crossing the border between the first and second thousand, each of his days starts from ground 0, which is indicated on the digital display of his GPS watch, and this is how he moves forward ­ one day, one stretch, one breath at a time. So for Karlis todays 121km were more important than the  waypoint of 2000km. During the last part of today's route another pole broke, so now we have only two poles and one of them has no metal tip which broke off yesterday evening. So basically we have only one fully functioning pole and the task for this evening is to figure out a way of replacing the broken tip with a new one. We hope that our specialized mechanics team is up for this challenge =).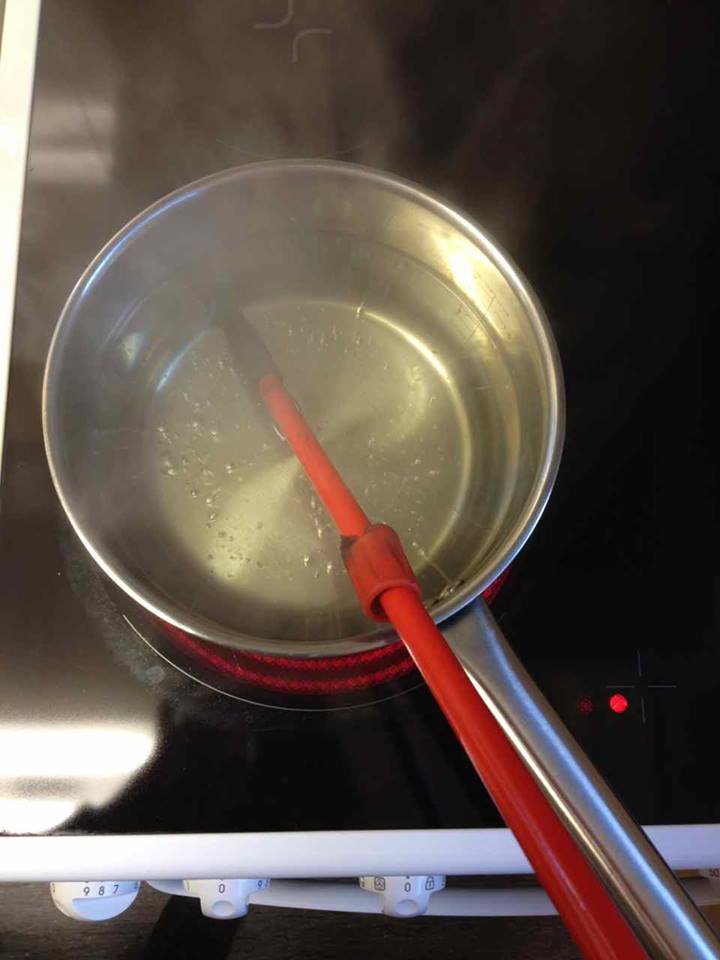 September 28, 2013
Day 22. This day began with a task for our technical team. They had to replace the broken pole tips with a new ones. The trick was that the instructions for this replacement task came form a YouTube video, so till the end it wasn't clear if it will work. After boiling the tip for 2 minutes it magically came off the pole. Then we heated a glue stick on our Primus and used the hot glue to fix the new tip onto the pole. It all worked out perfectly so Karlis started his day with two poles again. Today for the first time we found ourselves on a highway by mistake and left it as soon as we could, because it didn't feel safe for Karlis and almost every driver was using his horn to express his frustration with the crazy guy on roller skates. But we don't miss the highway, because it's frickin boring and anonymous. It's funny how your perception changes ­ now 120km a day already feels like a normal distance not worth mentioning but actually it's still a lot.
To be continued in part 3